State by State Guide:Growing Marijuana Legally
Even though cannabis has become massive in the US, growing marijuana legally is complicated.
From federal rules, to state laws, here's what you need to know:
How your state decides and interprets its laws.

How the federal government sees personal marijuana cultivation.
Let's get into it.
Chapter 1:
Growing Cannabis State By State
Your first step is to check your state law. Doing so is the best way to avoid problems.
In the US you can only legally grow marijuana in a select few states, for either medical or personal purposes.
And each one has its own very specific rules. Including the number of plants you can grow and estimated bud production.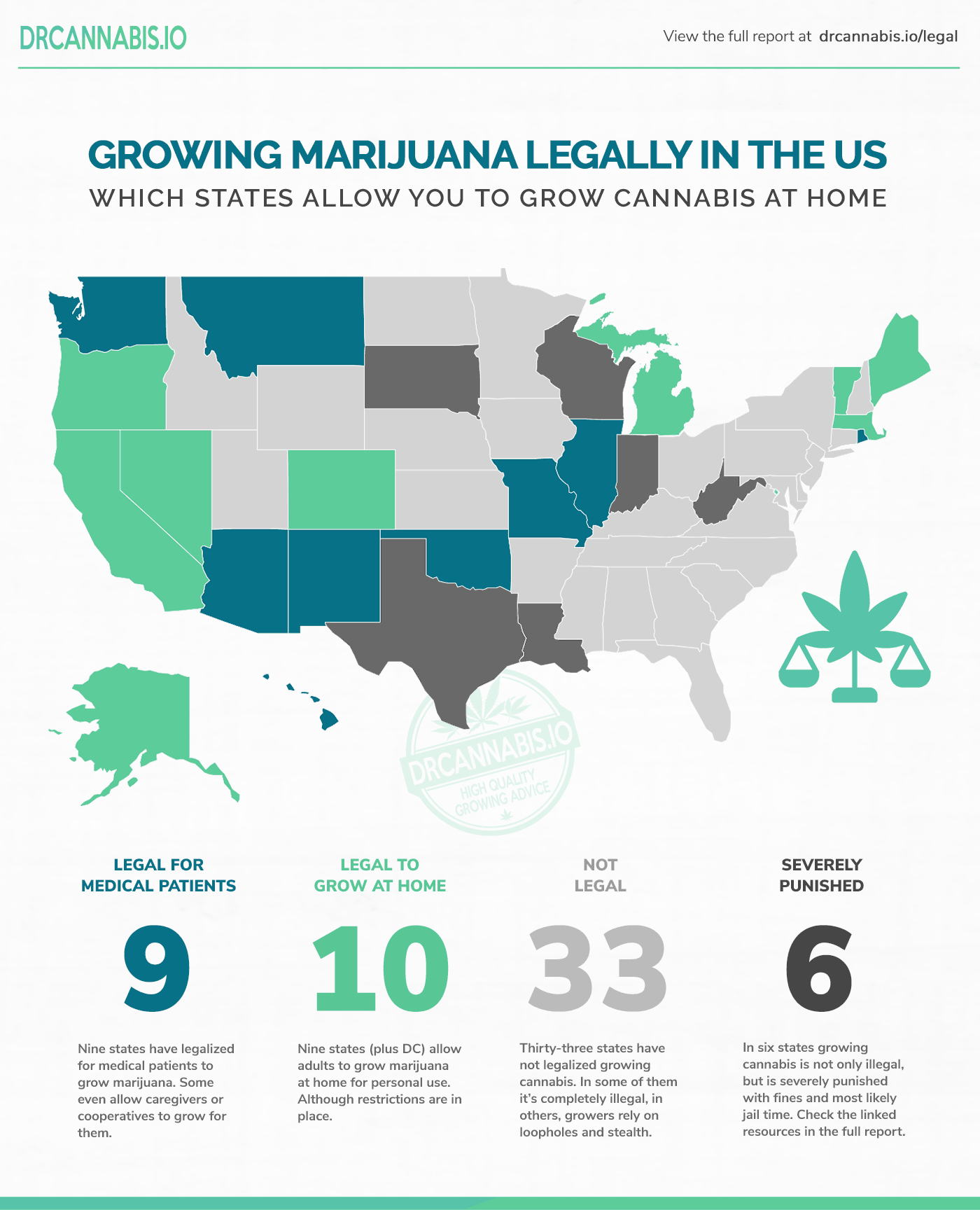 Disclaimer: This is not legal advise and it's intended as introductory information for entertainment purposes. For correct information and procedures study your state laws and contact a lawyer.
Chapter 2:
How To Grow Cannabis Legally
Most Common Rules For Growing At Home
The most common rules for growing cannabis at home legally include:
Limits on how many plants you can have.
what stage of maturity they're in,
how far you are from dispensaries (for medical use states),
and household and per-person limits.
Plant Count Limits
In general, most states have limits on how many plants you can have. Growing marijuana legally means sticking to those guidelines.
The amounts range from three to 12, and most states will require some of the plants to be immature.
They often limit possession of mature plants—unless you have a commercial grower's license.
Eligibility And Location Requirements
A lot of states have medical programs, and you must be accepted into their program before you can consider growing legally.
Requirements vary for medical marijuana programs, but you might need a doctor's note to get your card.
Some states still ban medical marijuana users from cultivating their own cannabis, though.
In some places, it's a no-go, no matter how far you are from a dispensary.
In other states, you can grow a few plants at home if you live more than 25 miles or so from the nearest cannabis vendor.
Plant Tracking (and Fees)
Still other states have specific growing requirements such as tagging your plants with your registration number for the medical program.
Sometimes, fees are applicable to the tags—again, it varies by state.
Watch Out For Nosy Neighbors
I advise you start with a small grow tent setup or set aside a hidden spot in your garden for your cannabis plants.
Keep in mind that your state—and even city—might not like visible cannabis plants hanging over your fence.
In most places, people try to keep their grows hidden anyway. After all, security is a top concern (more on that in a minute).
Your neighbors may not like the smell, either.
That could cause more problems for you than the cops knocking on your door.
In terms of staying friendly with your neighbors and flying under the radar, it's ideal if you:
Grow your plants out of view of the street.
Grow indoors, or inside a tent, whenever possible—keeping odors to a minimum.
If you need to be extra careful keep in mind grow cabinets for stealth growing.
Don't grow more plants than the law allows, you're asking for trouble otherwise.
Keep your permits in order, if applicable.
Don't advertise your grow—or have lots of visitors coming to check it out.
There's so much more to growing cannabis at home, but these pointers are a good place to start when navigating the legislation you have to operate under.
Legal Security Measures For Your Outdoor Grow
There's also legal measures you need to take to protect your grow.
It depends on your state laws and local regulations what kind of security measures you should put in place.
If you have an intricate growing setup, it's worth checking into the laws in your area to ensure you're not drawing more attention to yourself.
Growing marijuana legally in the US doesn't mean advertising your grow, after all.
Here are a few guidelines that can come in handy:
Be careful who you trust.

Suitable fencing to prevent people from walking in.

Nestling your cannabis plants near other garden-variety greenery.
Plant near 'smellier' plants when possible—this can help cover up cannabis odors.
Trim plants short—that way, they don't overgrow their enclosures (especially mature plants).
For commercial growers—and many home growers, too—the equipment and processes have to follow state guidelines.
Motion-sensing video cameras outside your growing spot.
Setting up alerts for your camera system—so you know immediately if someone enters a secure area.
Make your cameras visible—that alone can be a deterrent.
Old-fashioned locks on your gates or entrances to growing areas.
Chapter 3:
Growing With A Medical License
To grow marijuana legally you will need a medical license in many states.
With the license, you can use dispensaries to get your, or you can grow your own (state law permitting).
Qualifying Medical Conditions For A Medical Marijuana License
While it used to be that you had to prove a severe debilitating condition to get a medical card, today it's more permissive.
Most states have a long list of qualifying conditions, covering health problems like:
AIDS
Anorexia
Arthritis
Cancer
Chronic pain
Glaucoma
Migraines
Muscle spasms
Seizures
Severe nausea
Tons of other conditions may apply, too.
Depending on both your state and your medical provider.
Caregivers: Growing Cannabis For Others
You can have a caregiver grow the plants for you in most states.
But that often involves another application and more fees. Even stricter guidelines on plant counts and other aspects of the small-scale operation.
At the same time, some states expand your plant count if you and a caregiver both need cannabis.
So, instead of having six plants at home, you could have 12—if the other half belongs to someone you care for.
If you're a parent or caregiver for someone with a medical card for cannabis, you can take over the responsibility of growing the plants.
Each state has special stipulations for caregiving scenarios, of course.
You might need to submit another application, pay an additional fee, or get a doctor's note.
But in the end, it's typically possible to grow plants for both yourself (if you're a patient) and another person (as a caregiver).
A few states even let you grow plants for up to three people.
Costs For Medical Marijuana Licenses
Unfortunately, it seems like every state charges a fee for medical marijuana cards.
Some are steeper in price than others, so you could even spend $100 getting a card to grow six plants.
Plus, if you have to buy the state-required tags for your plants, that's another expense to factor in.
Your state might even be one that charges more fees on top of the card and plant tags—several states charge you for permission to grow at home.
Some discount programs are available, such as offerings for veterans, but those aren't an option in every state.
There's also the possibility that your application could result in a denial—meaning you have to pay again to reapply.
Filling out the paperwork properly—and reading any fine print—is a good way to avoid a rejection (and higher costs).
Chapter 4:
Understanding Federal Laws
What Does Federal Law Say About Growing Cannabis?
Growing cannabis at home is illegal under the US federal law.
Despite the liberalization of state laws, outdated federal laws categorize marijuana the same as heroin and PCP, according to the Controlled Substances Act[1].
Schedule 1 drugs are those that the government deems most dangerous.
Anyone growing, marketing, or distributing marijuana is violating multiple federal laws.
The designation wasn't the long-term plan[3], since that category is for drugs with a certain set of characteristics.
They're the ones that aren't usually used for general medical treatment. And they're also the ones that aren't generally considered safe.
Since there aren't any drug trials with marijuana, it falls into such a "dangerous" category.
Reserving The Right To Pursue Criminal Charges
In January 2018, the Office of the Attorney General issued a Marijuana Enforcement memo.
A memo which allows federal prosecutors to decide how to prioritize enforcement of federal marijuana laws.
Even though these laws are generally applied only against people who manage large quantities of cannabis. This means that anything is up to interpretation.
They're reserving the right to pursue criminal charges against growers and users. So you can roll the dice as far as who may be prosecuted and why.
On top of that, it does not recognize the difference between medical and recreational.
Any US citizen can be prosecuted.
Even if they grow their own medicine.
Even if they reside in a state where medical marijuana use is protected under state law.
Federal Law vs. State Laws
Fortunately, the federal government is not out to catch legal home growers and users.
There's a ceasefire in the federal war on marijuana on a state level. As long as people follow state laws and don't engage in interstate activities.
For some of us, this means we shouldn't worry.
And for others, it might mean that we shouldn't advertise the glowing tent in our kitchen.
Still, the conflict between federal and state laws has caused problems in lots of people's lives.
You can run into problems with the CSA even if you're not directly involved with the marijuana industry[5].
If you provide services to a business that operates under state marijuana laws, you may also be violating federal law and thus subject to prosecution.
So if you run a janitorial service and have a client that operates a dispensary, you may be profiting from illegal drug trafficking.

The CSA also makes it unlawful to "knowingly open, lease, rent, maintain, or use property for the manufacturing, storing, or distribution of controlled substances."
So landlords that have tenants involved in state-permitted marijuana industry may risk federal asset forfeiture or other criminal fines[6].
Federal Punishments For Marijuana
Federal cannabis laws are very serious, and punishment for people found guilty is frequently very steep.
In several federal cases, judges have ruled that medical issues cannot be used as a defense, though defense attorneys usually raise the issue whenever possible during trial.
Penalties for violating the CSA are not just targeting growers and distributors.
Simple possession with no intent to distribute is a misdemeanor, punishable by up to one year in prison and a minimum fine of $1,000.
Individuals involved in marijuana businesses can receive up to five years in prison and fines up to $250,000 for individuals and $1 million.
Chapter 5:
More On Cannabis Legality In America
The Overall Situation For Legal Marijuana
The short answer is that states say all kinds of different things about marijuana.
What's legal in some states is illegal in others. Tons of people have moved across the country to get safe access to having their own grows.
And some in life saving situations because of medicines made from marijuana—and laws are changing all the time.
Keeping up with in-progress legislation is a smart thing to do if you're growing at home. Check your state website for updates often.
You can even write to your state representatives if you feel passionate about what's happening at the decision-making level.
Otherwise, your only option to avoid legal troubles and ensure you're growing marijuana legally is to follow the law currently on the books.
Some states offer full recreational or medical use of marijuana. With or without stipulations on how and when you can use weed products.
Some states have both medical programs and permissions for recreational use.
Of the 50 states, 33 have specific programs that publicly approve the use of medical marijuana[7].
Places like the District of Columbia, Guam, Puerto Rico, and the U.S. Virgin Islands also have programs.
Some states (like South Dakota and Nebraska) are rolling out trial programs, which means the average resident there can't use marijuana legally.
Hopefully, that will change soon, but for now, following the rules is your best bet for staying out of trouble.
State programs are usually medical cardholder offerings.
What's interesting is that states with both a medical and recreational component don't usually put that information in the same place.
So you could wind up pursuing a medical certification, only to find out you never needed one in the first place.
How Many People Are In Prison On Marijuana Charges?
While getting detained for having weed in your pocket or you car seems unfair and ridiculous, it has cost people their freedom.
Police make over 600,000 arrests a year for cannabis law violation, many of which lead to prison sentences.
Furthermore, police continue on creating criminal records for residents in unprivileged communities.
Which will most likely result in longer sentences for any future offenses.
The number of unjust incarcerations for cannabis is 40,000. According to the Last Prisoner Project, a nonprofit coalition fighting for people in prison for cannabis offenses[9].
On the other hand, according to the Bureau of Justice Statistics:
"More than 99% of federal drug offenders are sentenced for trafficking".
Moreover, independent data by the U.S. Sentencing Commission shows that 92 people were sentenced for marijuana possession through the federal system in 2017[10].
The numbers are out to confuse us.
Apparently, the number of people unjustly in prison because of marijuana is lower than we thought.
But it seems to me nobody really wants to say exactly how many people are in prison on marijuana charges.
Now, even if the number isn't as high as we think, "some" is still a lot of people.
More so considering marijuana it's being sold legally across America.
Now I'd Like to Hear From You
Hopefully you found this new guide to growing legal marijuana in the US helpful.
Now I'd like to know about you:
Are you growing in your home yet?
Does your state allow for medical or personal cultivation?
Let me know by leaving a comment below right now.